Version 1.0 Infant (Alpha)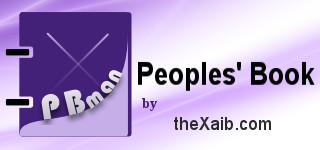 Description Peoples' Book Manager (PBman) is a Contacts Management application. The main feature of this application is that it only store one phone number . It prevents to add a number that already exists.
Desclaimer #
The application is not completed yet. Exporting the contacts is not yet implemented, so its almost safe to backup the database file , that can be used for future build of the application. Also features like , Contact Image and Changing or choosing Database file is not yet available.
Download #
Windows #
Link will be provided soon
Android #
Link will be provided soon
Basic Usage #
Adding Contacts #
Click Contacts -> Click (+) Add Button -> Give Contact a Name and Click tick sign Button to save contact.
Adding Numbers and Info to Contact #
As new contact is created,it is shown in Edit mode.Or you can select a contact in Contacts List -> click Edit button on top right In contact Edit mode, New numbers and info like facebook,skype id etc can be added. To Add a number , press (+) Add button next to Numbers To Add other info like email,facebook,skype id, click Add button next to Others
FAQs #
Q: Where does PBman store the contacts info? Ans: PBman stores all the contacts information and groups information in ../pbman_data/pbman_db.db file . The pbman_data directory is located in users documents directory on Windows OS. This directory can be found at root level of internal or external storage (sdcard) on Android OS. Q: How can I backup PBman's Contacts? Ans: The pbman_db.db file contains all the contacts information. All contacts information is safe with this file and it can be moved to PC or Android mobile memory. Relaunch the application to view the contacts saved in the database file.